Top WordPress Google Maps Plugins 2020
Google Maps Plugins. If you want to display a map on your website, Google Maps is probably the first name on your mind. And while it is easy enough to embed a simple map using the included embed code, the best WordPress Google Maps plugins give you a lot more functionality.
1. Intergeo Maps
A freemium plugin up until recently, Intergeo Maps is now a totally free plugin. It's easy to say good things about Intergeo. Map creation with this plugin is possible in two ways:
From the Intergeo page that's added under your WordPress Media tab automatically.
By clicking on the Media tab in your normal post editor.
The neat UI simplifies map creation and customization. Not only that, but you'll also be able to store the maps in a maps library with specific settings, and then retrieve them later for reuse, with or without editing.
Google Maps CP offers a way to add location data to a WordPress page or post. It's an interesting concept for news-based sites that have reporters in various locations or even a travel blog. Users can use this data to find related posts from the same area. Locations can be defined either by a physical address or point coordinates.
3. WP Google Map
Want to add style to your existing Google Maps embeds? Take a look at WP Google Map. It offers hundreds of map styles to choose via Snazzy Maps and will quickly apply the styles to all the Google Maps embeds on your website.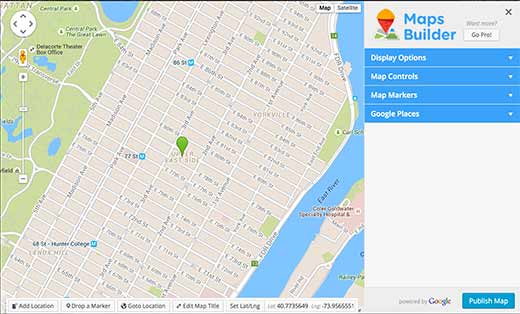 Maps Builder comes with a beautiful map customization experience with tons of options. You can easily add locations, choose map size, controls, map types, and even choose a map theme. All of this can be done in a visual customizer.
Adding a map to a post is easy. All you need to do is click a button on the post editor and select your map. Maps builder also allows you to add custom markers, and you can even show nearby places with Google places.
Want to quickly display a map in a sidebar widget? Google Maps Widget allows you to easily add a Google Map in your sidebars or any other widget ready areas. Clicking on a map will open the map in a lightbox popup with a larger view. You can also choose pin colors and even use your own image as a pin.
6. Simple Google Maps Shortcode
There's really no settings involved, though you can adjust the map dimensions and disable scrolling. The maps are typically cached for three months, but changing the address automatically refreshes the cache.
Want to add a Google map to your site with your own custom placemarks? Basic Google Maps Placemarks allows you to add placemarks with address, assign them categories, add custom marker if you like.
You can create as many placemarks as you need and then display them all together on a map using shortcodes. You can also create categories to create different maps showing different locations and placemarks.
Using a GPX file as your source, WP GPX maps will display interactive maps with features like altitude, speed, heart rate and temperature. This functionality could come in handy for plotting race/event courses or tracking fitness data.
Visitor Map will display a world map widget complete with location points of currently online users. The plugin will also show the number of both logged in users and guests. Maps are responsive for mobile-friendliness.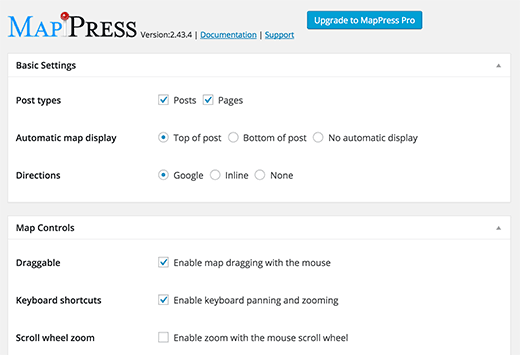 MapPress Easy Google Maps is one of the most popular free Google maps plugin. It allows you to easily add a Google map to any WordPress post, page or custom post type by simply typing the address.